Standard Handcar Assembly Instructions and Plans
What started as a simple handcar assembly manual morphed into a detailed 126 page examination of the standard railroad handcar. While the book was intended to be an instruction and assembly manual for building our handcar kits, it was expanded to include dimensioned plans for every part included in the kit in the instance the reader prefers to build their own car from scratch without purchasing our kit. Detailed wood plans show you how to cut your lumber, along with tips for efficiently building your car. The book also includes history text and numerous historical photos. As a bonus, purchasers of the book will receive a $50 credit towards a handcar kit if purchased within six months. Professionally printed on heavy gloss paper and spiral wire bound for convenient referencing.

$49.95
Shipping USA $4.95, Canada $15, all other international $25


---


Handcar Kits

Our handcar kits have sold out and we now only sell fully assembled handcars. We sell plans books for those looking to build their own handcars using their own materials.

Click for photos and info about the manufacturing process for our handcars


Kalamazoo handcar in action on the Nevada Northern Railway.

Features:
Double cone tapered Timken style roller bearings for optimal performance
Correct 3.27:1 gear ratio
18-1/2" diameter drive gear made to exact specifications from an iron casting with precision machine cut teeth
6" diameter pinion gear machined from steel
Cast Iron Walking beam
Axles CNC machined from 1-1/2" diameter 1045 Carbon steel
Precision crankshaft
Steel wheel rims made from 3/16" thick steel
Many parts have their original casting number cast on them
Bronze connector rod bearings
Babbitt crankshaft bearings
Dozens of iron castings
Many CNC machined and formed parts

No aluminum parts! We only use the materials that were originally available in the early 20th century.

Hickory dowels for pump handle for display use only... $80
For safety consideration we do not sell wood pump handles for actual use as hidden defects could be present.

Optional floor mounted warning bell.... $125

Optional authentic handcar crankshaft bearing without babbit.... FREE SUBSTITUTION
We have authentic castings of original crankshaft bearings that we will substitute for the off the shelf Royersford Foundry babbit bearings we supply with our kit. However, you will need to pour babbit and bore them.

We offer wood centered wheel building services. The price per wheel is $500 (includes delivery) for customer supplied wheels. The price does not include painting.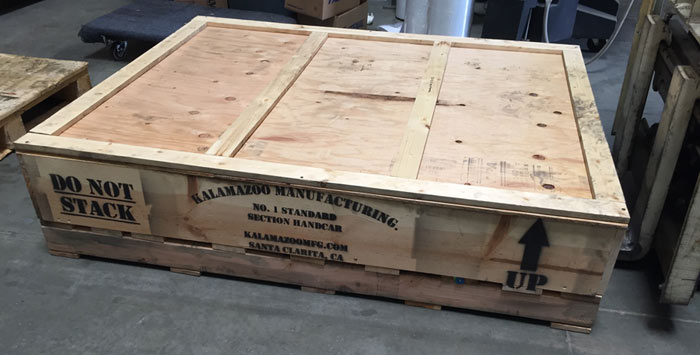 Handcars kits are shipped in a custom built crate.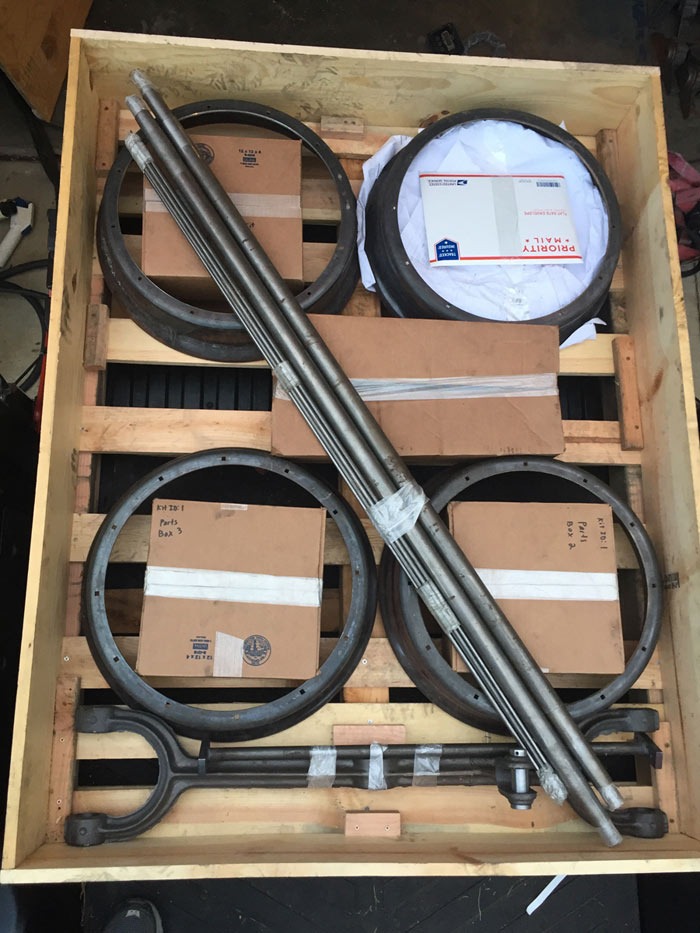 Packed away neatly are all components needed to build a handcar except lumber.

Sales Tax applied for California purchases.

Fully Assembled Handcars
We offer fully assembled handcars at the starting price of $10,700. We recently had to increase our cost because the cost of lumber has doubled in early 2018, and steel prices have increased 20%. Architectural handcars fabricated from tropical weather resisting wood is available and start at $20,000.

Upgraded cars coated in polyurethane automotive paint and architectural feature cars are available for additional costs. Contact us for more information about acquiring a built to order handcar.

Delivery time for a fully assembled handcar varies from three to nine months depending upon the complexity of the request. To get started I require 50% down, and the remainder at or before delivery. I can ship around the country, but there is a $600 crating charge in addition to shipping fees charged by the shipper. You can pick up the car from me, or I deliver with my trailer if you are within 400 miles from Santa Clarita, California. Shipping weight is about 900 pounds. Common carrier shipping across the USA ranges between $1000-$1200. International shipping vary $1500-$3000 depending upon destination.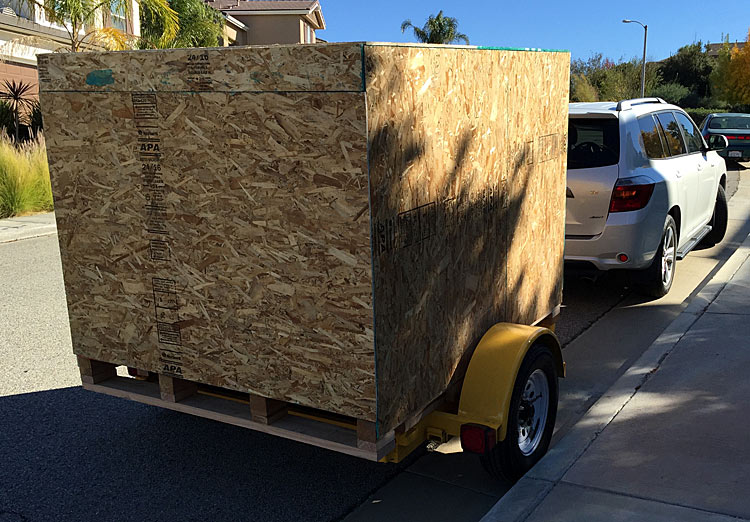 Crated car ready for shipping. This car was delivered to the Chicago area by YRC for a cost of $1500
INCLUDE ("/www/virthost/www.kalamazoomfg.com/html/includes/right.php"); ?>